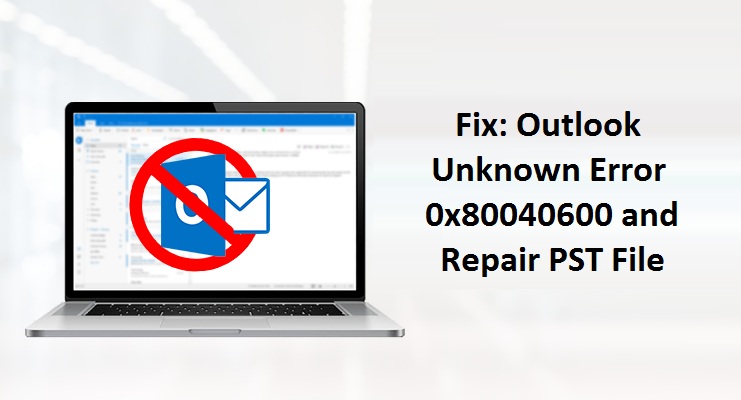 Resolve Outlook Unknown Error 0x80040600 and Repair PST File
Resolve Outlook Unknown Error 0x80040600 and Repair PST File
You might have tried to send, receive, or read an email on Outlook and suddenly a message would have appeared on the screen saying Outlook unknown error 0X80040600 on receiving reported error 0X8004 0600. Such an event won't let you access your emails, calendars, contacts, tasks, etc. and hence it becomes really urgent to know the root cause and eliminate this Outlook error. This post will work as your go-to guide to help you detect the reason so that you can fix the problem by yourself.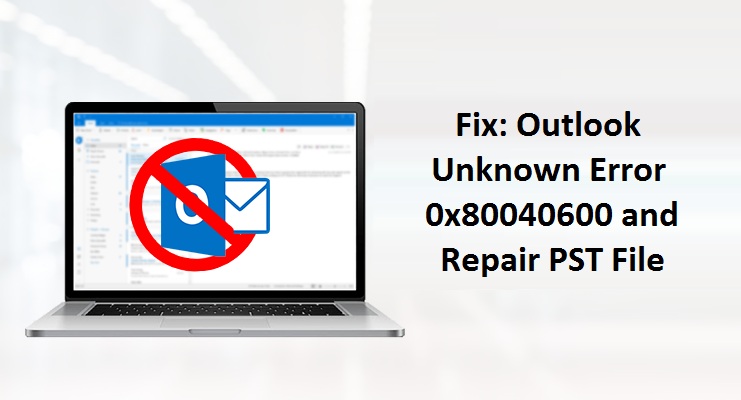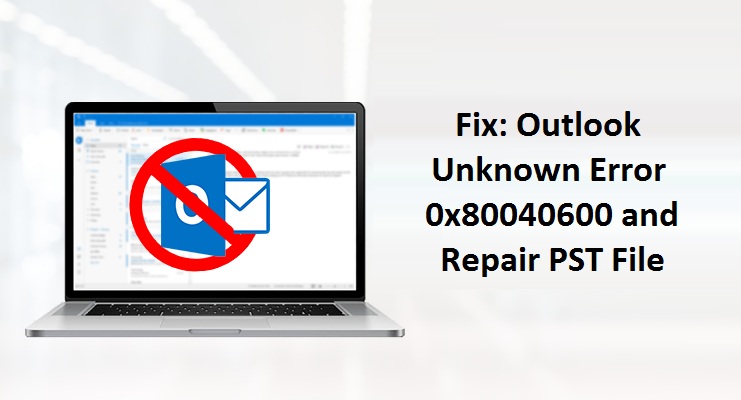 What causes Outlook unknown error 0X80040600?
There could be multiple reasons that lead to error 0X80040600, mainly an overloaded PST file. It is also known as a personal folder file (PST) in Microsoft Outlook having a storage limit of 2GB. In case, you exceed the maximum available limit of the PST file then it automatically gets corrupted or damaged resulting in Outlook unknown error 0X80040600 and disables you to access Outlook files and folders. Sometimes, the virus or malware intrusion in Outlook files also triggers the problem. Scroll down to check out some effective ways to eliminate this Outlook problem.
Quick steps to fix Outlook error 0X80040600
Here are the most effective ways which can help you eliminate Outlook 0X80040600 error with ease.
Step 1: Repair a damaged Outlook PST file using the SCANPST.EXE tool
SCANPST.EXE is an inbuilt inbox repair tool that you will need to use to scan the damaged or affected Outlook PST file. Here are the steps.
Firstly, close Outlook before scanning the affected Outlook PST file.
Go to the start menu, click the Searchbar, and enter this file path – C:\Program Files\Microsoft Office\%OfficeVersion%\SCANPST.EXE. 
Now launch the EXE, click the Browsebutton and locate the PST file that needs scanning.
Once you have selected the adequate PST file, click the Scan button to proceed with the recovery process.
Now you will see a message saying Create a backup, here checkmark the box adjacent to Make a backup of scanned file before repairing.
Further, you may also choose the location where you want your backpack to be saved. The backup file will be saved to the chosen location with an extension .bak.
Click Repair to start the process. A message – Repair complete will appear on the screen, once the operation completes.
Click Ok to finish the repair process.
Now restart the Outlook application and verify if an unknown error Outlook 0X80040600 resolved or not. If still an error persists then you will need to create a new PST file.
Step 2: Create a new PST file
Launch the MS Outlook
Click File and then select Account settings.
Go to the Manage profiles section, click Show Profiles.
Now you will have to click the Add button in order to create a new profile.
Choose a new name for your newly created PST file and make sure the name should be different from an existing PST file.
Once done, click Ok.
After creating a new PST profile, an unknown Outlook error 0X80040600 will resolve. It doesn't end here. Now it's time to restore the data from your old PST profile (from the backup that you have created in the first step while running the inbox repair tool).
Step 3: Restore or import the backup file
Navigate to the location where you have stored your backup file.
Locate the old PST file with .BAK as an extension.
Create a duplicate copy of this file and rename it by replacing .BAK extension to . PST.
Now launch Outlook and click the File
Go to the Open and Export section and click the Import/Export
A new window, Importand Export wizard will open in front of you.
Here you will need to click Import from another file or program.
Click Next and then select Outlook data file (.PST) as the file type.
Click Next.
Now choose the .PST file that you have just duplicated from .BAK file.
As you are importing to a newly created PST file, you can select not to import duplicates.
Now you must select the folder to import and then click Finish.
Great! You have successfully eliminated error 0X80040600. Just now we have repaired the PST file using the SCANPST inbox repair tool, created a new PST file, and then restored or imported the PST file from the old profile. In the end, you must be well aware of how to prevent the Unknown Outlook error 0X80040600 from occurring in the future. Scroll down to learn the tips that some top Outlook expert recommends.
How to stop Outlook Unknown Error 0X80040600 from occurring in the future?
Most of the time Outlook error 0X80040600 occurs due to exceeding the storage limit of 2GB storage limit. Either you should modify this limit or else do not exceed it to avoid error 0X80040600.
Always keep your antivirus program updated and make sure to use the authenticated one.
You must remove the unnecessary emails or data from Outlook in order to be within the storage limits.
Do not forget to maintain and create the regular backup of PST files.
It will help you in file recovery or while upgrading Outlook to the latest version.
Be alert when you see the symptoms of PST file corruption and avoid the abrupt system closure as much as possible.
Also Read: How to Fix Outlook Error 0x80004005?
What to do when Outlook error 0X80040600 is hard to handle? Call the experts
You shouldn't be scared of trying these fixes that we have mentioned just now. These three methods do not require any technical expertise and they can be tried even by novice users. Whether it's repairing the PST file using the inbox repair tool, creating a new PST file, or recovering the backup data from the old PST file, you can try these steps without having formal training. All you have to do is, follow the steps as we mentioned in this blog post and eliminate the Outlook unknown error 0X80040600. If still you have any doubt regarding the steps or need assistance on any technical aspect then you may contact us via Outlook Email Chat Support and our Outlook expert will be there to respond to your query. We are available 24/7 to help you overcome any problem in MS Outlook.