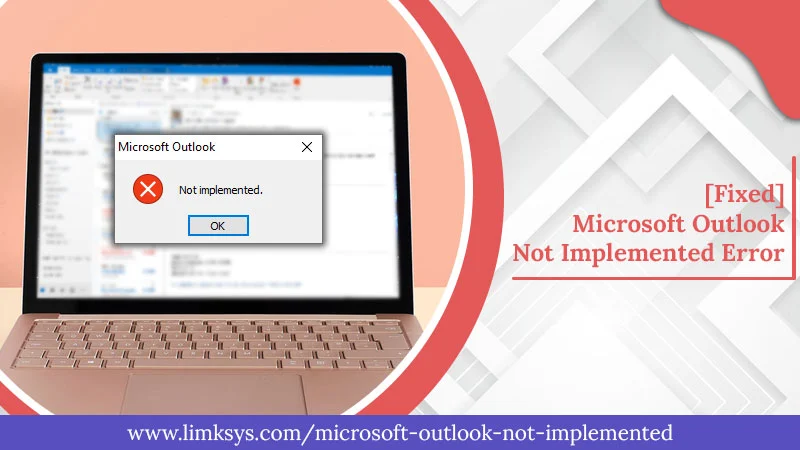 [Fixed] Microsoft Outlook not Implemented Error
[Fixed] Microsoft Outlook not Implemented Error
Microsoft Outlook runs glitch-free most of the time. However, like every other application, it's possible that some errors might creep into it. The Outlook not implemented error pops up when you receive, send, forward, or reply to a message. You will see a 'Not Implemented' message on your screen, which hinders you from doing anything with your emails. 
For those who are seeing this error for the first time, it can be really confusing to make sense of why it has come. On their own, there isn't much they can do to resolve it. That's why in this article, we've compiled some common causes that will help you understand the problem better. You will also find some troubleshooting steps for it. 
Read Also – How To Fix Outlook Send Receive Error
Why Do You Notice the Not Implemented Error in Outlook?
This error can put a halt to all your email communication. Here are the significant causes for it.
Your Outlook profile is damaged or corrupt. 

The antivirus program isn't properly integrated with Outlook. 

Defective Outlook add-ins are another major cause. 

A corrupt or damaged Outlook PST file can also lead to this issue. 

Improper Outlook installation. 

Improper send/receive settings
Fixes for the Outlook Not Implemented Error
Use these fixes in the order they are mentioned so as to eliminate the problem completely. Let's start by launching Outlook in the Safe Mode.
1. Launch Outlook in Safe Mode
Many add-ins prevent Outlook from working normally and cause Microsoft Outlook not implemented error. So, the foremost step is to open the application Safe Mode. This will make it work without any add-ins.
Just input 'Outlook /safe' in the 'Run' dialog box and press the 'Enter' key. Your application will open in the Safe Mode. The next step is to disable add-ins in this mode. Head over to 'Options,' followed by 'Add-ins,' and hit 'Go.' Disable all of them by unchecking their boxes. Then, go to 'Send/Receive' and check if this resolution has worked.
2. Make the Send/Receive Settings File Again
Recreating Send/Receive settings file is the next step to fix this error if you still find it after opening it in the Safe Mode. To recreate this file, follow these pointers.
Go to this path: C:\Users\%username%\AppData\Roaming\Microsoft\Outlook\ location.
Now, search for the 'SRS' file. It will be named 'Outlook.srs.'

Next, you just need to rename it. You can write Outlook.srs.old.

Now, simply restart Outlook. The new SRS file will be formed.

Now, see if Send/Receive is usually working or not.
3. Turn off the Antivirus Application 
Although antivirus applications protect your system sometimes, they can interfere with the working of various other applications. They scan every incoming and outgoing email, which can interrupt their work. 
To verify if the antivirus is behind the Outlook error not implemented, you can disable the antivirus and see if the error still shows. 
4. Make a new Outlook Profile
As mentioned in the causes, a damaged or corrupt Outlook profile is one of the main reasons behind the error. A simple way to fix it is to create a new profile. Here is how to do so. 
Head over to 'Control Panel' and choose 'Mail.'
Now, tap 'Show Profiles.'
In the subsequent screen, create a new profile by tapping the 'Add' button. 

Now you can configure your account either automatically or manually. 
5. Undertake Outlook/Office Repair
Microsoft Outlook, when damaged, can make you face Outlook not implemented error. Also, if you have different Outlook versions like 2019 and 2016 on your system, it becomes known as side-by-side installation. You must undertake Outlook/Office repair to prevent yourself from facing this error.
Firstly, visit the 'Control Panel' on your system.
Now, tap 'Programs and Features.'

Choose the Outlook app or the installed Office application.

Follow this action by clicking 'Change.'
Now, enable the 'Repair' option.

Allow the repair to be done. After it gets over, send a message from Outlook.

Most probably, you won't face any issues in doing so. But if you still face the not implemented problem, it pinpoints to a damaged PST file.
6. Fix the Corrupt Outlook PST File
A corrupt Outlook PST file becomes the real source of this error if it doesn't get resolved through the fixes mentioned now. You can repair the PST file by implementing the ScanPST.exe tool. It is an in-built inbox repair utility in Microsoft Outlook, which is designed to address minor damages in Outlook PST files. You will find it inside the Office installation folder. 
Once you locate it, run it by double-clicking it. You just need to launch the Inbox Repair utility and let it resolve PST-related problems. Abide by the instructions that come on your screen. 
7. Reinstall Microsoft Office
You can uninstall Microsoft Office for Windows 10 via settings. After that, you must reinstall it and see if you still face the error. 
On your Windows 10 system, launch 'Settings.'
Then go to 'Apps & Features.'
Choose 'Microsoft Office 365 installation.' You can select the name of any Microsoft suite you've purchased, such as Microsoft Office Home and Student 2019 or Microsoft Office 365 Home. 
After that, tap the 'Uninstall' button. 
Repeat this action by tapping the 'Uninstall' button again. 

You will see some guidelines on the screen. Adhere to them to finish the uninstallation process. 

After uninstalling the application completely, you can install it again. 
9. Take Help from the Microsoft Support Community
If you find no workaround useful, you can report the problem to the Microsoft support community. There are many help forums of Microsoft online, and you can post your query to any one of them. The members will try to give you prompt responses, which you can implement. It's a great way to find resolutions to different Outlook glitches. 
Read Also – Why Outlook Disconnected From Server
Final Thoughts 
The Outlook not implemented error can become a major hindrance to smooth email exchange. But you can tackle it in a multitude of ways and get rid of it. However, if nothing works, it's wise to seek help from certified Outlook support professionals. They will leverage their deep know-how to quickly fix Outlook-related errors and troubleshoot glitches.