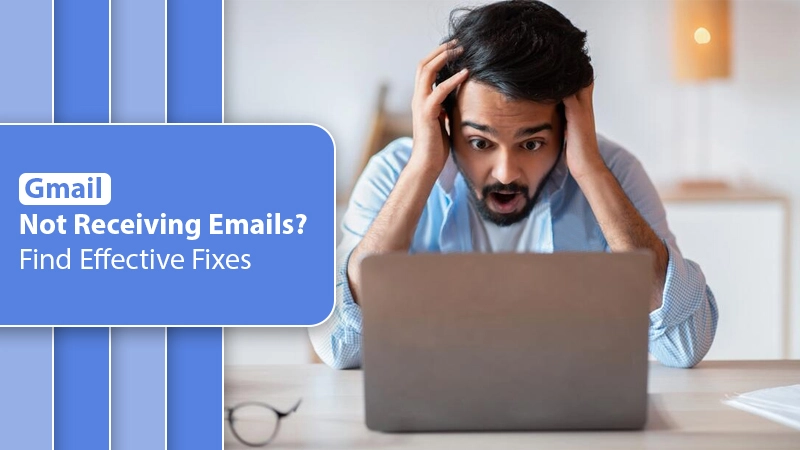 Gmail Not Receiving Emails? Find Effective Fixes
Gmail Not Receiving Emails? Find Effective Fixes
Gmail is undoubtedly the most loved email service today. You can create websites with just a Gmail account easily. Many people cannot imagine their life without accessing this email service daily. Naturally, if you find Gmail not receiving emails, it can feel terrifying. Don't worry, there are various ways to resolve this problem and none of them involves you having a great deal of technical knowledge. In this post, you'll find reasons and corrective measures that you can use to start getting emails.
Read Also – How To Fix Gmail Notifications Not Working Issue
Why Is Gmail Not Receiving Emails?
The reasons for you not getting emails in your Gmail account range from simple to complex. Some of the major causes are provided below.
Your browser doesn't support Gmail.

You don't have enough account storage available.

Incorrect Gmail filter settings.

Email forwarding is enabled.

An antivirus program is conflicting with your Gmail.
Read Also – Gmail Not Syncing And How To Fix
Troubleshooting For The Gmail Not Receiving Emails Problem
Although there are various measures you can use to fix this Gmail problem, it will be wise if you begin with general troubleshooting. It, along with the other measures is described in detail below.
1. Implement A Basic Troubleshooting
You must check several things on not receiving emails in Gmail. These checks are mentioned below.
Inspect Google's workspace status – Sometimes, Google servers go down. So, inspect the workspace status and find if Gmail has been down recently. 
Send a test email to yourself – Now send yourself an email. Send two emails. The first is with a Google account, and the second is from another service like Yahoo. If you get emails, it's possible that the messages you are not getting are an isolated issue.
Examine the spam folder – Google keeps filtering some messages as spam. The email you didn't get might be present in the spam folder. 
Check the trash – Do not ignore the chances of accidentally deleting an email or mis-clicking it. Sometimes, antivirus software can also delete emails. So, check your trash.
Update your Gmail app – Applications that are not updated face some kind of technical glitch. You are probably not receiving emails from Gmail because you haven't updated your Gmail app. It can result in syncing problems. 
2. Check The Storage
Insufficient storage in Google Drive or account is a common cause of users not getting emails. Gmail provides 15GB of digital storage. If your work consumes all of this space, you won't receive emails. To find the storage space you have, follow these points:
Go to Google Drive. 

Click the 'Gear' icon at the top-right and open 'Settings.'

You will see the storage you have utilized on the prompt screen.

Clean some items from the inbox if you find no available space.

Delete some emails and move them into the trash. Then open the trash folder and choose 'Empty Trash Now.'
3. Delete Email Filters
The flow of your incoming emails can be interrupted by the email filters you have enabled on your Gmail account. Thus, you can find your Gmail not receiving emails. Go through these points to remove Gmail filters. 
Tap 'Settings' present on the top-right menu.
Choose the 'Filters and blocked addresses' tab.
Now, choose the 'All' filters option. 
Tap 'Delete' to remove filters. 
4. Disable Email Forwarding 
If email forwarding is enabled, the incoming emails will go to the account you've configured for forwarded emails. Disable email forwarding through these steps.
Tap the gear icon and head over to 'Settings.'
Choose 'See all Settings.'
Head over to the 'Forwarding and POP/IMAP' tab.

Disable the option of forwarding and saving changes you've made. Then refresh Gmail. 
5. Turn Off  The Antivirus Program 
Many antivirus programs come with an email filtering feature. They filter out emails that the antivirus assumes to be suspicious. If you have such an antivirus program on your system, you will find that you are not receiving emails in Gmail. 
You can disable the antivirus via the task manager. 
Launch the Task Manager by pressing Ctrl + Shift + Esc.
Navigate to 'Startups and locate your antivirus application. 
Right-tap on it and choose 'Disable.'

Restart your system and see if the problem is still there or not. 

You can enable the antivirus once the problem resolves. 
6. Examine The Google Admin Console
It's for all those who have an email registered under a G-Suite subscription. It means that if you have an email address that doesn't have @gmail.com at its end, you can try out this method.
Ask one of your administrators to head over to admin.google.com and locate your email ID. They can find about the emails directed toward you that were uploaded on the servers of Google. These include those emails that did not land in your account. If they don't find the message or email on the servers, it implies that there's an issue with the sender.
7. Inspect Gmail Server Settings
Gmail server settings play a vital role, especially if you are using your Google account on third-party clients. Incorrect settings result in your Gmail not receiving emails. So, you must check the settings of your account and configure them correctly. 
The correct settings are as follows:
smtp.gmail.com is the name of the server.

465 is the port number.

Input your email address in the field of the sender's email address.

SMTP or SMTPS will be the email type.

To set SSL as default, you must put 'Yes' in front of 'Enable TLS.'

Enable authentication for setting your account.

The username field will contain your email address.

The password field will have your password.
8. Log Out And Log In To The Account
A simple fix to use when you are not receiving emails from Gmail is to log out and log in to your account. It can troubleshoot the glitch by syncing your Gmail to the servers of Google. It also displays messages missing on the device.
Final Thoughts
Now you don't need to feel anxious when you notice your Gmail not receiving emails. The fixes mentioned above, like clearing storage space, checking the spam folder, and disabling email forwarding, are all very easy to understand and follow. But if you still don't receive emails, dial the number of professional email technical support services. The technicians will quickly resolve all your Gmail email issues.