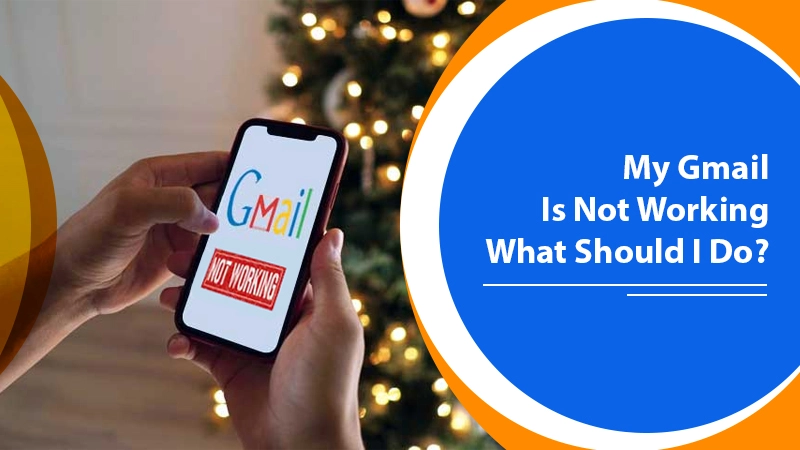 My Gmail is Not Working | What Should I Do?
My Gmail is Not Working | What Should I Do?
Gmail is one of the most loved email services. Irrespective of your device to access it, be it Mac, iPhone, or Android, it's hard to imagine a day without it. So, if you find Gmail not working, it may feel incredibly difficult to carry on with your day. Usually, the email service functions well, but it can occasionally encounter some kind of glitch. When your Gmail doesn't work or respond, you can try troubleshooting the problem by yourself. In this article, you'll find the exact reasons and resolutions to get your Gmail back up and operate smoothly.
Read Also – Why Gmail Notifications Not Working And How To Fix
Why Is Gmail Not Working?
There are innumerable reasons for Gmail not to respond, load, or stop working properly. Here are some main reasons you must know.
You have not configured the Gmail app on your iPhone or Android device.

You work on a browser that isn't updated or supported by Google. 

Extensions and apps can cause Gmail issues.

You have forgotten your password.

A hacked account can lead Gmail to not work as it should.

Gmail is not syncing with the apps.
Troubleshoot Gmail Not Working?
Now that you are familiar with what's causing your Gmail to not work optimally, it's time to check the various techniques you can implement. Go through the series of troubleshooting methods below and fix your Gmail effectively. 
1. Fix Gmail Not loading In The Browser
If you find Gmail not responding on your browser and taking a lot of time to load, there are some steps you should carry out. Implement the following measures. 
Update the browser – Ensure that you use a browser that Gmail supports. You can use browsers like Firefox, Chrome, Microsoft Edge, Safari, and Opera. Also, go to the settings, and check if there's a pending update. If there is one, install it.

Find problematic extensions – To find if an extension is causing Gmail issues, open Gmail in Incognito or private mode. If it works fine there, try turning off the extensions one by one, and see if Gmail works fine on your browser. 

Delete cookies – You can also delete cookies and cache and try to reload Gmail. It may be possible that it will start working properly now. 
2. Remove And Install The Gmail App
A good approach to use on finding Gmail not working properly on your phone is to remove and install it again. The steps to remove the Gmail account from Android and iOS are explained below.
For The Android
Go to 'Settings.'

Now click 'Accounts.'

Select the account to remove and hit 'Remove Account.' Confirm your decision to remove your Gmail account. 

Enter your PIN or password to verify.
For The iPhone
Hit the 'Settings' gear icon.

Navigate to 'Mail' followed by 'Accounts.'

Choose 'Gmail' and then 'Delete Account.'

Confirm to remove your Gmail address from your iPhone.

Now restart iPhone.
After following the steps to remove the account, you can install the app again.
3. Fix Gmail Not Functioning In Chrome
Many users report that their Gmail stopped working or loading in Google Chrome. If you also face this issue, try resetting the Chrome browser. The steps to reset the Chrome browser are as follows.
Open Chrome.

Next, hit the 'More' icon. It's at the top-right part of the window.

Now choose 'Settings.'

Now hit 'Advanced.'

Navigate to the section 'Reset and Clean Up.'

After that, click 'Reset.'

Hit the button of 'Reset Settings' to confirm your action.
Remember that this entire process will reconfigure the search engine to Google. You will find the home page, content settings, cookies, extensions, themes, and the new tab page going to their default settings.
4. Fix Password Problems That Cause Gmail To Not Work
If you have forgotten your password and are finding Gmail not responding due to it, you should reset it. Follow these steps to do it. 
Input your email ID into the

Account Recovery

login

. 

Google will ask you various questions for verification. You must answer as many questions as you can. 
To avoid facing such complications in the future, it's wise to configure your recovery account in advance. To set up your recovery account, follow these points. 
Sign in to Gmail, and tap your profile picture. 

Navigate to 'Manage your Google account.'

Head over to the 'Security' tab, and choose the option 'Ways we can verify it's you.'

Fill in the fields of Recovery Email and Recovery Phone. 
5. Fix Gmail Sync Issues
Sometimes, you might find that your Gmail is not syncing. These Gmail issues arise because of a failure of Gmail to sync. To enable Gmail to start syncing, you can implement the two measures explained below.
1. Clear The App Data
Launch the device's settings, and head over to 'Apps & Notifications.'

Choose 'App Info.'

Go down to Gmail, and choose 'Storage.'

Tap' Clear data,' followed by 'OK.'

Now, start your device again.
2. Check IMAP Settings
Review your IMAP settings, and ensure that the information below is correct.
993 is the IMAP Port.

SSL is IMAP Security.

587 is SMTP Port.

TLS is SMTP Security. 
6. Check If Gmail Servers Are Down 
It's possible that you are finding your Gmail not responding because Gmail's servers are down. To find out if this is the reason, you can go to downdetector.com. Alternatively, you can also type 'Is Gmail down' in the Google search engine. If there's a server outage, you'll need to wait until it resolves. 
7. Fix Gmail Not Receiving Emails
A lot of people complain of not getting messages in their Google inbox. You can review the following elements of your Gmail to know why you are not receiving emails in Gmail and fix it.
Filters and blocked addresses – You must not block any contact or set any rules for emails having particular words.

Spam folder – Mark Report Not Spam to ensure that the sender's email doesn't land in your spam folder.

Turn off email forwarding – Disable forwarding by navigating to 'Settings' and selecting 'Forwarding and POP/IMAP.'
Final Words
Now you won't feel helpless on finding your Gmail not working. Use the measures that correspond to your specific Gmail problem to get rid of the issue. If you want a quick resolution, it's best to connect with professional email technical support services. They will effectively resolve all email glitches and enable you to start working with it again.