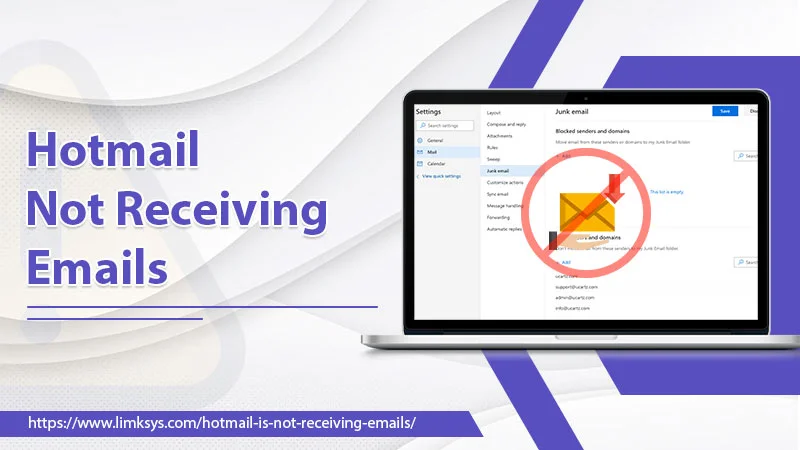 Hotmail Not Receiving Emails? You Need These Fixes!
Hotmail Not Receiving Emails? You Need These Fixes!
Hotmail, now called Outlook, is a highly reliable email client. However, it does not mean that users experience zero troubles with it. It's common to find your Hotmail not receiving emails on the device that you are using. The prominent cause behind it is server and account issues.
If you've also been facing this issue, this article will help you troubleshoot it. The good part is that it's one of those problems you can easily fix. There are many simple to advanced fixes you can employ. Let's understand this issue better by finding its causes and techniques to overcome it. 
Read Also – Why Hotmail Not Syncing
Why Is Hotmail Not Receiving Emails?
Often, a problem in the email settings renders it difficult for the users to receive new emails in Hotmail. Other causes for it are mentioned below.
The email filters are moving your emails to a different folder.

You have enabled email forwarding settings.

The server settings are wrong.

You have blocked certain senders.

An antivirus is creating problems.

There is poor internet connectivity.

Your account has less storage space and cannot get more emails.

You are using an obsolete browser or mail app.

Your Hotmail account has been compromised.

There's an issue with the Hotmail server.
Troubleshoot Hotmail Not Receiving Emails
Now you can utilize a variety of measures to make hotmail receive emails again. Follow these easy and effective methods.
1. Modify Inbox Filter
The inbox filters decide where a specific email will land. If you've made the wrong filters, the Hotmail messages you want to receive will land somewhere else. Follow this process to reset inbox filters. 
In your inbox folder, tap the 'Filter' option. 
Set it as 'All.'
Now, choose the 'Sort' option. 
Configure the sort order as 'Newest on top.'
2. Disable Email Forwarding
You might also find yourself not receiving Hotmail emails if you have enabled email forwarding. It's because it will automatically send the emails you are expecting to receive to a different account. Disable email forwarding as follows:
In Outlook, go to 'Settings.'

Now tap the option of 'View all Outlook settings.'

Choose 'Mail' followed by 'Forwarding.'
Remove the tick from the 'Enable Forwarding' box and tap 'Save.'
3. Configure the Hotmail Account Correctly
If you've set up your Hotmail account using the wrong Outlook settings, you will definitely find Hotmail unable to receive emails. Follow these correct ones.
The IMAP server name should be imap.outlook.com.

993 is its port number.

SSL should be the Encryption Type.

The POP3 server name should be pop.outlook.com.

995 is its port number.

SSL is the encryption.

The SMTP server name must be smtp.outlook.com.

The port number is 465 or 25.

SSL is the encryption type.
4. Take Away the Name of the Sender From the Spam List
Many people complain that they cannot receive Hotmail emails from a specific sender. It happens when the sender's email address falls on your spam list. As a result, you will get the email they send, but it will not fall into the inbox. In order to get it fixed, place the sender's email address in your safe mail list.
In Outlook settings, go to 'Junk' email. This option is in the left pane.
Find the 'Safe sender and domains' option and click it.
Now, hit the 'Add' button.

Add the sender's email address from whom you want to get messages.
5. Disable the Security Software
Sometimes, the security software may block the Outlook application. In such a case, you'll find Hotmail not receiving emails. You can fix the problem by switching off or disabling the security software in your system. After that, see if Outlook can receive emails. Here are the points to disable the Windows Defender antivirus program. 
In the 'Start; menu, look for 'Windows Security.'
When its app opens, tap the 'Virus & Threat Protection' tab. 
Now choose 'Manage Settings.'
Turn off the option of 'Real-time protection.'
6. Empty the Mail Storage
Outlook's storage that's 100 percent full will render it inefficient to receive any incoming messages. If you notice that your Hotmail not receiving emails but can send, you need to examine the storage. Users with a free account get not more than 15 GB storage space. To see how much space is there, go through these steps. 
In Outlook, tap the 'Settings' icon. 
After that, tap 'View all Outlook settings.'
Head to the 'General' settings. 
Now, choose 'Storage.'

If you find the storage full, you'll need to free up some space. For that, go to various folders such as inbox, junk, and trash. 

Remove all unnecessary emails. 

It's also a wise move to use the Sweep feature in Outlook. 

This functionality automatically removes older emails from a specific sender. 
7. Use a Different Browser
If your browser cannot fetch new emails from Hotmail, attempt to sign in with a different browser. Check if there are some new messages in your inbox when you use a different browser. If you want there's an issue with your browser, you need to optimize it.
Firstly, empty site data and cookies from your current browser. 

You can hit the 'Ctrl,' 'Shift,' and 'Del' keys together to clear browsing data.
In its window, place a tick on 'Cookies and other site data, cached images and files, download history', and 'Browsing History.'
Finally, tap the 'Clear Data' button.

Next, update the different plugins in your browser.

After that, factory reset your current browser. 

Now you'll be able to find your Hotmail account receiving emails.
8. Recover your Account
If you cannot get new emails or send them after following the measures above, it points to a deeper problem. It's highly likely that your Hotmail account has been compromised. Follow these measures to recover it.
Change the credentials. It means changing your username, password, and security questions and turning on the 2-step verification process.

Inform your email contacts that your email has been hacked.

Scan your system or phone for viruses. You should especially do that if you find your device slowing down. Unfamiliar applications or popup windows on your system.
Read Also – How To Block Emails On Hotmail
The Bottom Line
 these measures will allow you to fix problems in the email settings and get a fully functioning Hotmail account. Fixes such as checking filter rules, spam list, and antivirus blockage prove handy when you find Hotmail not receiving emails. But if the problem doesn't disappear, it's best to talk to a certified email technical support expert.