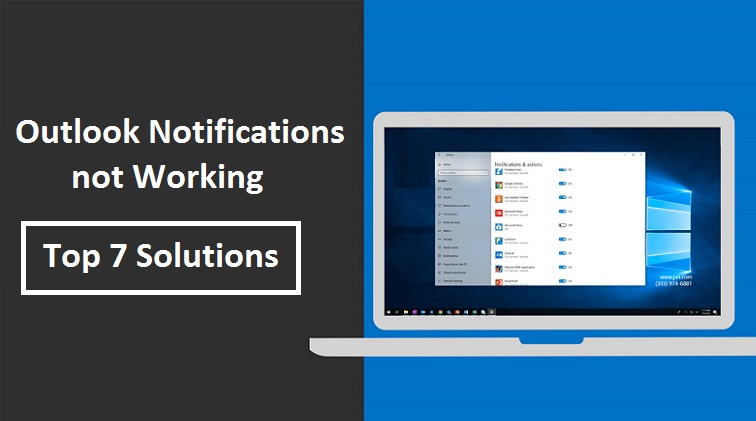 Outlook Notifications not Working – How to Enable?
Outlook Notifications not Working – How to Enable?
The complete situation goes the other way around when users find their Outlook notifications not working. If the notifications aren't running, users will find their important emails only when they open their mailing app. Undoubtedly, these notifications can be irritating sometimes but we actually miss them when we miss out an important email. So, if you are one who continuously misses out important emails while using Outlook on Windows 10, then this guide is for you. This guide will help you in getting Outlook notifications easily on your Windows 10 computer in multiple ways.
Follow through the steps one by one to find out what exactly works for you and share it with us in the comments below. If none of the solutions work for you or you have any queries, feel free to get in touch with Email Technical Support for immediate assistance. The solutions given in this blog will fix the Outlook notification not working issue by enabling various notifications and disabling conflicting Windows 10 features. So, let's get it started.
Solution to Fix Outlook Notification not Working Problem
Solution 1: Restart PC
The best way to fix any technical glitch is by restarting the system. If the notifications stopped randomly and used to come earlier then restarting the system might bring it to work normally as earlier.
Solution 2: Check Notifications Settings in Outlook App
Follow the steps given below to enable notification in Outlook app for Windows 10 and change the settings as and when needed.
Open the Outlook app installed on your computer.
Click on the File button given on the top.
Click on Options.
A new screen will appear. Click on the Mail option given on the left-side bar.
Go to the Message arrival section. Check the checkbox in front of Make sure Play a sound and Display a Desktop alert option to enable both the options.
Last, Click on the Ok button.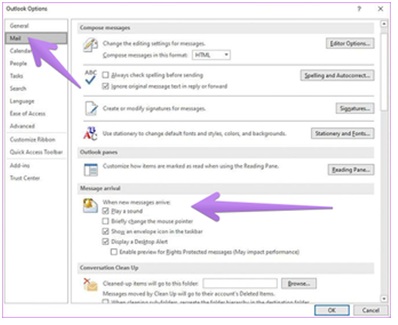 Solution 3: Enable Notifications in Windows 10 Settings
If the notification settings of your Outlook account are perfect, then you might want to enable notification of Outlook in Windows. Users can control the notifications app wise in their windows 10 system. Follow the steps given below to check if Outlook notifications are enabled in your Windows 10 system.
Press the Windows key + I keyboard shortcut on your system to open Settings.
Then Go to System and click on 'Notifications & actions'.
Under the 'Notifications' section, enable 'Get notifications from apps and other senders.'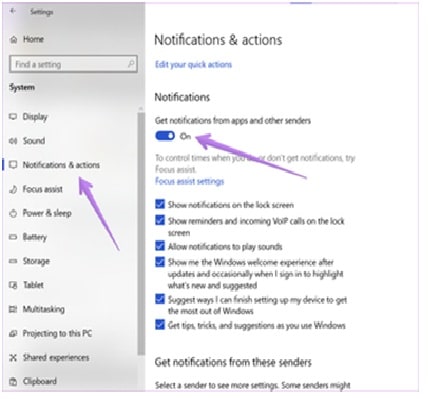 Scroll down and go to 'Get notifications from these senders' section.
Click on Outlook to find all the notification options and enable all the required options.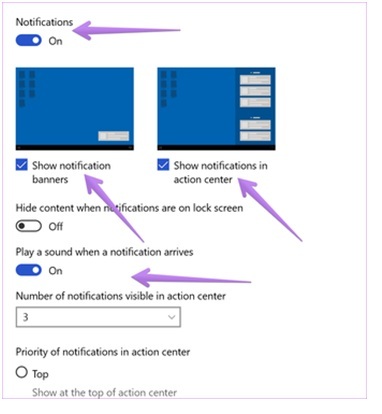 Solution 4: Check Notification Rules in Outlook App
If you have already gone through the above two steps and the Outlook notifications, not working issue persists then the check the Rules in Outlook app.
Follow the steps given below to check the rules settings.
First, go to the File menu in your Outlook app.
Click on Manage 'Rules & Alerts' to check if any rule is interfering in proper arrival of notifications on the incoming of messages.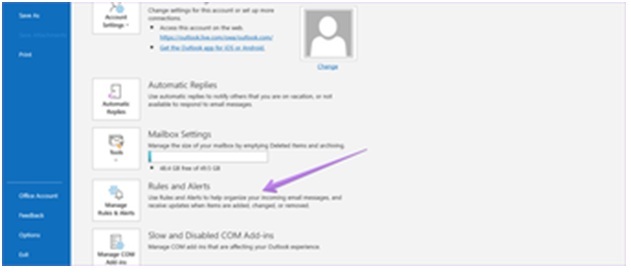 Solution 5: Disable Focus Assist
If none of the solutions given above worked for you, then the Focus assist option given in Windows 10 might be the issue. Enabling this option restricts all the external disturbances which could distract a user from working focussed including Outlook notifications.
Here's how you can disable Focus Assist in Windows 10.
First, open the Action Center from the taskbar. Find the half moon-like icon and see what's written below it.
If it says Focus Assist, this means the option is already disabled.
If it says Priority only, this means that the Focus Assist option is enabled. Click on it once or twice till the Focus Assist option comes back.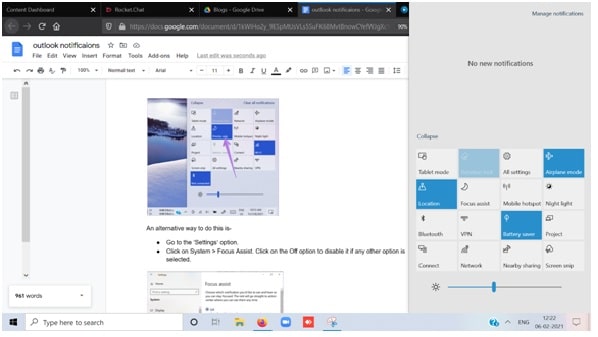 An alternative way to do this is-
Go to the 'Settings' option.
Click on System > Focus Assist. Click on the Off option to disable it if any other option is selected.
Solution 6: Disable Battery Saver
Similar to Focus Assist, Battery saver is another Windows 10 feature which might restrict Outlook notifications and cause Outlook notification not working. This feature limits the operations running in the background to save the battery. Disable battery saver mode on your Windows 10 computer to start receiving notifications.
Here's how you can do it.
First, click on 'Start' and go to the 'Settings' of your system.
Then click on the 'Battery' option to turn off the toggle button under Battery saver.
Also, you can set the battery saver to run automatically when it is low as 20% in the below option 'Turn battery saver on automatically at'.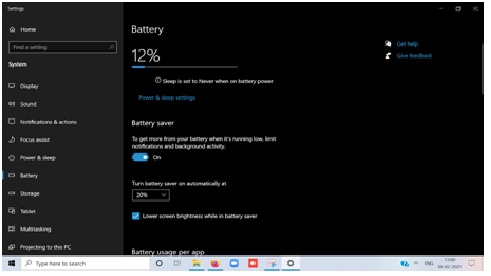 Solution 7: Update Office Apps
Check if you are using an outdated version of Outlook. Updating the recent version of Microsoft Office apps can solve the current Outlook notification not working issue.
Simply, open your Outlook app.
Click on File > Account options/Office account.
Then click on Office updates if new versions are available. Update the application.
Conclusion:
Hopefully, the above aforementioned solutions will help you in resolving Outlook notifications, not working issues. If nothing works for you, simply connect with the Email technical support team and seek their assistance to find the underlying cause of the issue. They will help you to find the best possible solution to fix the issue instantly.