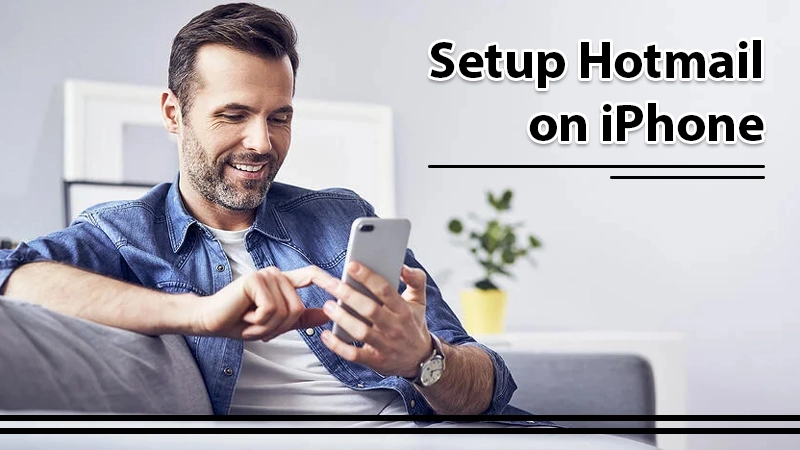 Setup Hotmail on iPhone | Latest Tutorial 2022
Setup Hotmail on iPhone | Latest Tutorial 2022
Do you need help to setup Hotmail email on iPhone? Go through this guide and follow the step-by-step process. Also, make sure you enter correct details such as email address and password.  
In reality, Hotmail has been retired and was replaced by outlook in 2012. Therefore, you will find the instructions for setting up Hotmail iPhone similar to outlook. However, we have explained each step that makes it easy to learn how to add Hotmail to iPhone. 
Read Also, Why –  Hotmail not working
How to Setup Hotmail on iPhone?
Lately, mobile users find it easier to carry a phone than a 14inches laptop. As a result, many users who are using email services like Gmail, Outlook, or Hotmail, find it easy to sync their data on iPhone. So, if you also want to sync your Hotmail and are looking for steps to configure Hotmail on your iPhone, you are lucky today!
Steps to add Hotmail on iPhone
First, unlock your iPhone and tap on the gear button called settings. You can find the option on your home screen apps or on the swipe-up menu. 

Next, go through the menu by scrolling down and tapping on the option Mail. This option incorporates a list of Apple apps such as notes and contacts. 

From the list of apps, tap on the option Accounts. 

Then, on the bottom of the screen, locate and tap on the option Add Account. 

Here, you will have several options including Google, Yahoo, AOL, Outlook, and others. As discussed above, Hotmail has been replaced with outlook, tap on the option Outlook.com. 

Moving ahead, enter your email address/phone/skype name and click on Next. 

Now, it's time to enter the email address passwords you used while creating the account. 
While entering your email address password, make sure you enter the correct password. Keep note of capital letters, numerical values, and special characters. 

Forgot Email Password: if you have not used your email or login for a long time, you need to rest it. For that login to outlook.com via your computer and tap on Forgot Password to reset the account. 

Once you reset the account password, note it somewhere and make sure it is not easily accessible. Then, move to the next step. 
Go back to your iPhone and enter your new password. 

Then tap on the Sign-in button and select Yes to allow the Mail app to access your Hotmail account. 

By default, all the apps on your iPhone will be selected. However, you can select the apps whose data you want to sync with your iPhone with Mail. slide the toggle button and it turns out green (on). 

Then tap on the Save button. 

Come out from the settings and open your mail application on your iPhone. Your new mail account should be available. 
Congratulations! You have done a great job configuring Hotmail on iPhone.
Final Words
We hope it is clear that Hotmail does not vanish but has been replaced with outlook email. That is why we set up Hotmail email iPhone using the outlook platform. The steps are very easy and similar to any other email setup.
However, if you get any difficulty while setting up the email on your phone, contact Limksys. Our support executives are available 24×7 and offer online services in all parts of the world.