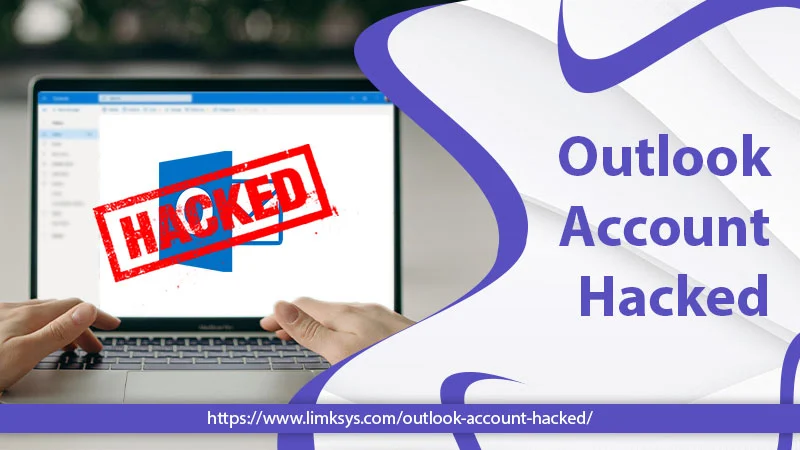 Fix the Outlook Account Hacked Issue and Restore It
Fix the Outlook Account Hacked Issue and Restore It
Microsoft Outlook is a great email client with a high level of security. However, it is definitely not fully immune to hacking attempts. Increasingly, users report that their Outlook account hacked. A successful hacking attempt has the potential to make you lose all critical data. Hackers can easily use your password and do whatever they want to do with your personal information. Fortunately, there are multiple things you can do to retrieve your account. But first, it is wise to be aware of the signs that indicate your account has been hacked. In this article, you'll find in-depth information related to these things. 
Read Also – How To Fix Outlook Send/Receive Error
Signs That Indicate Outlook Account Hacked
When someone takes charge of your account, it undergoes various changes. Some changes that should alert you include the following:
Your contacts complain about getting spam emails from your email ID.

Your computer gets infected with a virus.

You will notice that your emails appear red, but you did not open them.

Sometimes you may lose emails without you having taken any action for the same.

The last and most important sign is the inability to log into your account because of a changed password.
 Read Also – Why Outlook Email Not Working
How to Recover a Hacked Outlook Account 
You can regain access to your Outlook account by changing its password. Here are the precise steps to take if you suspect that your Outlook account has been hacked.
1. Scan your Computer for Potential Viruses
It's possible that if your account is hacked, your system is also infected with viruses. If you use antivirus software, ensure that you've updated it. Running a system scan before is important before you modify your password to restore your account. Windows users can leverage the built-in antivirus app, the Windows Defender. You can enable this program through these steps. 
Choose '

Start

.'

In the search box on screen of '

Start

', input '

windows defender

' and tap on its result.

Now all you are required to do is adhere to the guidelines on your screen.
2. Modify or Reset your Account Password
Changing your password is imperative to restore your account. So, if you notice that your Outlook account has been hacked, attempt to first sign in online. 
Head to the Outlook webpage. Here, input your Outlook email ID and password.

After that, tap '

Sign-in

.'

Now see which of the following cases apply to you.
You should change your password if you can still log into your account. For it, head to '

Account Security

' and tap '

Change

' beside '

Password

.' Adhere to the guidelines.

If you cannot sign in, it means your password has been changed. Tap '

Can't access your account

' or head to the Reset Your Password page and follow the guidelines. 
Use these Tips to Make a Robust Password
Check that the password has eight characters.

Do not use your actual name or username.

Also, avoid using complete words.

Ensure that the password for every account is distinct.

Your password should have both uppercase and lowercase letters. So, use as many distinct symbols as you can.
3. Configure Two-Factor Authentication
Configuring two-factor authentication on your Outlook account is crucial if it has been hacked. You need to use the Microsoft Authentication app to set it up. In case you don't have this application, you must head to the Google Play Store on your Android phone and install it. Choose the 'Sign in' button that has a Microsoft link.
Confirm the email ID linked to your Outlook account.

Press the '

Next

' button.

Now, confirm the password related to your account.

After that, tap '

Sign in

.'

Opt for the secondary verification method, such as your email address or your contact number. 

Finish the process of verification.

Now, hit the '

Got it

' link.

Next, click '

OK

.'

In order to set up multifactor authentication, open your account in your browser.

Tap the '

Security

' tab and choose '

Advanced Security

.'

Next, tap '

Additional Security

' and choose the '

Turn on

' option for setting this authentication.

Choose '

Next

' and confirm the platform you desire the two-factor authentication to operate.

Choose '

Next

' followed by '

Finish

.'
4. Reset Outlook Account Settings
After configuring two-factor authentication, you must reset your account settings. It's an essential measure to take when you find that your Outlook got hacked.
Tap 'Options' in the upper-right part of Outlook.

Click '

More Mail Settings

.'

Now, choose the three options of sending and receiving messages from other accounts, forwarding emails, and sending automated replies. These are below the '

Managing your account

' option.

Next, reset linked IDs.

Tap '

Options

' followed by '

More Mail Settings

.'

Go below the '

Managing your account

' area.

Here, tap '

Account details (password, addresses, time zone)

.'

Tap '

Linked IDs

' and then tap '

Add linked ID

.'

Now you can reset the '

Reply-to

' address.

Tap the '

Options

' symbol followed by '

More mail settings

.'

Below '

Writing email

,' tap '

Reply-to address

.'
5. Integrate Another Email Address
Another action you can take to fix the Outlook hacked issue is adding another email to your account. This will allow you to get an email notification if Outlook experiences a suspicious login on your primary account. 
Head to the '

Security Basics

' page and choose the '

Advanced Security

' options.

Now select '

Add a new way to sign in or verify

.' It is there below '

Ways to prove who you are

.'

Tap '

Email a code

.'

You'll get a prompt to add an additional email.

Now you will get a code by Outlook to the second alternative email.

Take this code and input it.

After everything gets executed properly, your alternative email will be present below '

Email a code

.'
Read Also – Why Outlook Keeps Crashing 
Concluding Words
You must take the Outlook account hacked issue seriously. If you fail to notice it at the right time and take corrective steps, you will regret it later. So, watch out for the signs and modify your password immediately. If you require expert support, connect with email tech professionals.