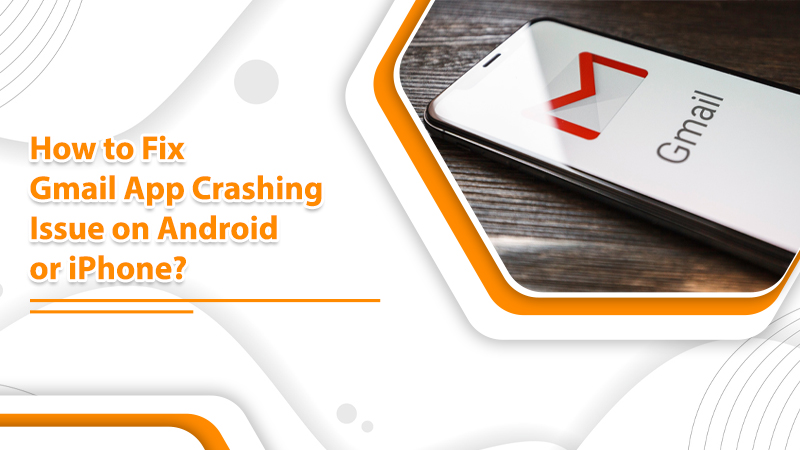 Gmail App Keeps Crashing? Try These Effective Fixes
Gmail App Keeps Crashing? Try These Effective Fixes
Gmail is one of the most popular email services. Many people depend on it to carry out email exchanges every day. Naturally, when you find your Gmail app crashing, it can feel very troubling. This problem hinders you from accessing the incoming emails timely. You will also find yourself unable to send new emails. 
The issue does not have a single but many causes behind its occurrence. Many things, from a cache file error to an app update, can lead to it. In this article, you'll find out all the causes triggering your Gmail to crash. Afterward, you'll read about the solutions to tackle the problem.
Read Also – Why Gmail Notifications Not Working How to fix
Why Is Gmail App Crashing on Android or iPhone?
Before moving on to the solutions, it's best to find the reasons for Gmail crashing. The most common causes responsible for the problem are as follows:
Damaged cache file 

Poor internet connectivity

Faulty Gmail settings

You are using an old Gmail version

The Gmail server is down

Insufficient internal storage

You have installed new Gmail updates

The phone is in battery saving mode
Read Also – Why Gmail Not Syncing and How to fix
Fix Gmail App Crashing Issue on Android 
Now that you know why your app is crashing, you can attempt troubleshooting. Read and implement these measures whenever your Gmail application crashes.
1. Uninstall the App Updates
It might not seem like a troubleshooting measure because updates are crucial to making your applications perform smoothly. But sometimes, an app can bring various glitches with it. So, you may find your Gmail app starting to crash after you install an update. Uninstall it by following these steps:
Go to 'Settings.'
Navigate to 'Apps & notifications' followed by 'Gmail.'

Select 'Uninstall Updates' after choosing the three dots at the top-right part.

Now select 'OK' to remove updates.

Open your app and see if the issue is fixed.
2. Remove the App's Data and Cache
Often, the data and cache files of your Gmail app can result in various problems. If your Gmail app keeps crashing, try removing these files.
Access 'Settings' and head to 'Apps & notifications.'

Select 'Gmail.'
Tap 'Storage & cache.'
Now click 'Clear cache' followed by 'Clear storage.'

Open your Gmail app.
3. Clean the Android Phone's Storage
Gmail will crash if it cannot find space to keep temporary files on the phone. An easy way to resolve this problem is to clear storage on your device. If your phone has a storage analyzer, you can find about the unwanted files you can delete. You may also access the functionality to clear junk files automatically. 
Navigate to 'Settings.'

Select 'Storage,' and you'll notice the kinds of items that consume a specific amount of space on your Android phone.

Touch 'Free up space' to find about things you can safely remove.
4. Toggle the Dark Mode off in the App
Although Dark Mode isn't directly associated with the Gmail app crashing, you can try it to see if it fixes the issue. Do it by following these steps.
Open the Gmail app, and choose 'Settings.'
Go to 'General Settings,' followed by 'Theme.'

From the 'Theme' menu, choose 'Light' to disable Dark Mode.
Read Also – Why Gmail Not Receiving Emails and How to fix
Fix Gmail App Crashing Issue on iPhone
Software glitches, incorrect network settings, network connectivity errors, and server outages can lead to Gmail crashing on your iPhone. Go through this troubleshooting guide to fix it. 
1. Exit and Reopen the Gmail App
If you had an ios update and the Gmail app ran in the background, it may have become corrupt. So, giving a clean start can fix the issue.
Go to 'Home,' and swipe your finger in an upward direction to the middle. Then, pause. 
Swipe right or left to locate the 'Gmail app' preview.
Next, swipe the 'Gmail app' preview in an upward direction to exit the app. 

After some time, relaunch Gmail and see if it's working fine. 
2. Reset Network Settings
If you find that Gmail keeps crashing, it may be because of network misconfiguration. To clear it, reset the network settings of your iPhone. 
Go to 'Settings.'
Next, select 'General.'
Now, tap 'Reset.'
Choose the 'Reset network settings option.

Input the passcode of the iPhone.

Confirm reset network settings.
Your iPhone will reboot and restore the default settings. After a steady internet connection is available, relaunch Gmail and see if it crashes.
3. Enable IMAP
The IMAP or Internet Message Access Protocol is a significant option that allows the Gmail app to work optimally on iPhone. So, on finding the Gmail app crashing, you must check and enable the IMAP option.
Go to the Gmail website on the browser and input your credentials.
You will find a message on your iPhone to download the app. Choose 'Go to mobile Gmail site.'
After logging in to your email, select the link next to 'View Gmail In' and choose 'Desktop.'
Now opt for 'Settings' and click 'Forwarding and POP/IMAP option.'

Scroll down and see that IMAP is enabled. 

Now restart your iPhone and launch Gmail app.
4. Delete and Install the Gmail App Again
Sometimes, deleting and installing the app on iPhone also fixes this issue. If you notice Gmail keeps crashing lately, it's because it may be corrupted. Corrupted apps are often outdated. If even after implementing the measures above, you find that the Gmail app crashes repeatedly, it's a sure sign that it's corrupted. 
You need to clear the app from your device and reinstall its latest version to fix the problem. 
Go to the home screen, and open the 'Settings' app.
Choose 'General,' and click 'iPhone Storage.'
Choose 'Gmail app' and click 'Delete App.'

After this, restart your phone. 

Now, go to the App Store and install the app's current version. 

Wait till the installation completes, and then open the newly installed app. See if it is still crashing or freezing. 
Read Also – Why Gmail not working and How to fix
Final Thoughts 
Follow these measures when you notice the Gmail app crashing on your Android phone or iPhone. If you use Gmail for work-related purposes, it's essential to fix this issue by methods like removing cache, clearing storage, and resetting network settings. Both iPhone and Android users can apply the measures given for their respective operating systems. Contact professional email technical support services if you need more help with the issue.