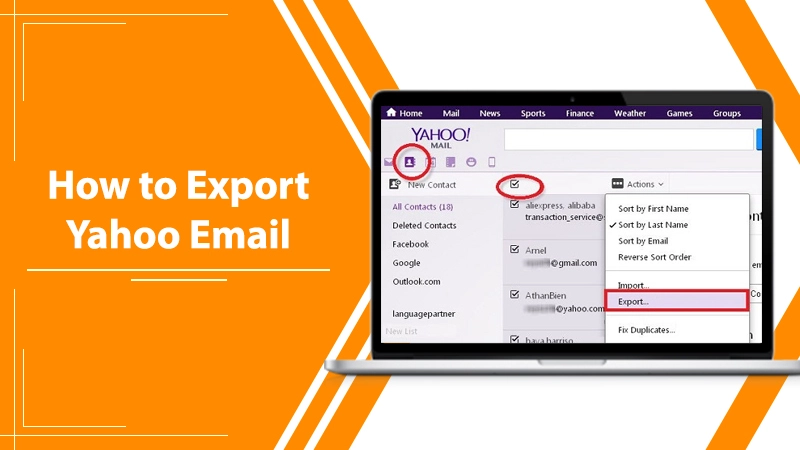 How to Export Yahoo Email – The Process You Should Follow
How to Export Yahoo Email – The Process You Should Follow
People would want to backup their Yahoo emails for various reasons. They may wish to migrate their correspondence to another email client, or they might like the functionalities that another email client offers more than Yahoo emails. Irrespective of the reason, it makes sense to know how to export Yahoo email. As recently as 2016, Yahoo announced that over 400 million user accounts were compromised. Given this scenario, users would definitely want to shift to another email client. In this article, you'll find effective reasons for taking regular backups of your emails and how you can do so. 
 Read Also – how to recover hacked Yahoo account
Why Should You Know How to Export Yahoo Email?
Yahoo Mail saves all the user emails. Hence, they should take timely backups of it. Now that you know that the credential of almost every Yahoo account has been compromised, it's become more important to backup your mails. If a ransomware attacker gains access to your Yahoo data, and you aren't able to recover it, it can cost you millions. You can effectively avoid the undesirable scenario by exporting your Yahoo data to your PC. It will ensure that even in the event of data loss or theft, you have a backup copy of your Yahoo data. 
 Some important reasons why you should know how to backup Yahoo emails include the following:
To overcome issues that arise from accidental deletion of emails.

To safeguard your emails from cyber attacks like phishing. 

To create another account if your previous one gets blocked due to some reason.

To safeguard your precious data from online threats. 
How to Export Yahoo Email?
There are various easy ways by which you can export Yahoo emails to computer. To do so, you should download the Yahoo mails to your PC's local folder. Yahoo Mail service does not have an export option that can enable users to shift their data to their computers. As per Yahoo, users can copy and paste the mails they desire to save to their system through any text editor. They can also save every mail individually by opening the message and hitting the 'Ctrl + P' keys simultaneously. Then tap 'Save' to keep the email in PDF format.
But the good thing is that Yahoo provides you with the IMAP access option. So, you can gain access to your emails via a third-party application. 
Export via MS Outlook
Before you add your Yahoo email account to your Outlook desktop, you must prepare the account. To export via MS Outlook, you must follow three main steps. It includes preparing your account, configuring Yahoo Mail in Outlook, and exporting Yahoo Mail data to your computer. 
Preparing Yahoo account
Tap your account picture in Yahoo Mail and click 'Account Info.'

Choose 'Account Security' then select 'Manage app passwords.'

You'll notice a popup window opening. After that, choose 'Outlook Desktop.' Then tap 

'Generate.'

It'll produce an app password that you can later use when adding the mail account to your Outlook client. Copy this password and click 'Done.'
Configure Yahoo Mail in MS Outlook
Head over to 'File' in MS Outlook. After that, hit the button of 'Add Account.'

Type in your Yahoo email account. Then click the button of 'Connect.'

Input the earlier generated app password that you had copied. After doing so, click 'Connect.'

Next tap 'Done.'

Now open MS Outlook. You must be able to notice Yahoo Mail in Outlook configured perfectly.
Export Yahoo Mail information to your computer
Navigate to 'File' followed by 'Open & Export.' Then choose 'Import & Export.'

Next, select the option 'Export to a file' and then click 'Next.'

After that, choose the 'Outlook Data File (.pst)' option. When you do so, click 'Next.'

Now opt for the folders to export from and then click 'Next.'

Now search for a location to keep or save the exported file. Copy the file path. You can also use the default location. After you browse a specific location, hit 'Finish.'

Now paste the file path that you had copied in the file explorer. You will notice that the newly exported Yahoo Mail data file is in a .pst format. 
This manual technique to export Yahoo Mail has various limitations. Firstly, it is quite inconvenient, and users require a desktop-email client to perform the process. Secondly, it becomes time-consuming if the users try to drag and drop for specific email import. Also, through this method, you can get the emails in only a specific format.
 Read Also – Yahoo mail not syncing
Export Yahoo Mail through the Kernel IMAP backup
Exporting Yahoo email data through Microsoft Outlook can be a time-consuming process. For those who don't have much time in hand can use a third-party tool. One of the robust tools for this is the kernel for IMAP backup. Through it, you can backup numerous server mailboxes. Thus, you can backup IMAP information to HTML, MSG, DOCX, PDF, and MHT formats. The tool is also compatible with Lotus Notes, Novell Groupwise Exchange Accounts and Microsoft 365. It also gives different options like folder selection, data range folder, etc. Go through the steps below to know how to backup Yahoo emails through the Kernel IMAP backup.
You'll view prompts in your welcome screen for adding mailboxes for data backup. 

Type in your email account credentials. After that, click 'Add.'

Select the option of 'Set Filter' followed by 'Migrate.'

Select the filters you want. Then, click 'I am OK, Start Migration.'

Next, select the file output type to save your IMAP server information. 

Input the file path so as to save the backed-up IMAP mailbox. 
 Read Also – yahoo mail attachments not showing
Final Words
You can implement any of the methods mentioned above for exporting emails. Hopefully, the instructions will help you understand how to export Yahoo email. But don't worry if you face any issues in exporting emails. You can take the help of email customer services for the same. The experts will guide you in this process, and you can ask them any queries related to it.