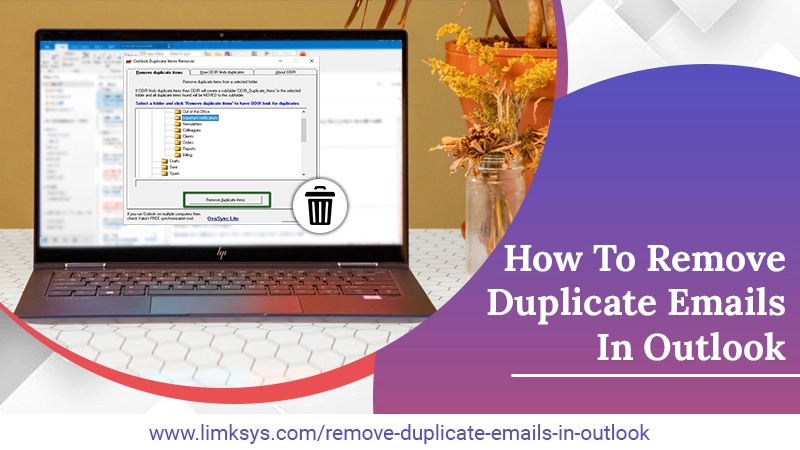 How to Remove Duplicate Emails in Outlook Quickly
How to Remove Duplicate Emails in Outlook Quickly
Microsoft Outlook allows you to deal effectively with all your tasks, emails, and calendar items. But over time, the accumulation of various items in the mailbox will render you unable to keep up with the latest items. In the beginning, you may not find duplicate emails giving you many problems. However, slowly they will start impacting the performance of Outlook adversely.
So, it is essential to know how to remove duplicate emails in Outlook. You certainly do not want to deal with things like the application hanging when you open it and data file corruption. In this post, you'll get to read the various causes of this issue and how to fix it effectively. 
Read Also – How To Fix Outlook Send Receive Error
Reasons for Duplicate Emails in Outlook
People using various versions of Outlook face this issue. Such emails only lead to confusion and affect your daily productivity. So, you must be equipped with ways to remove duplicate emails in Outlook. But before that, it would be wise to know the common reasons that lead to it in the first place.
You have created the wrong rules in the Outlook application.

There is some problem with your account setup. This commonly happens if you use your account on a range of devices such as smartphones and laptops. 

Your Outlook inbox updates at an extremely low interval. It, in turn, prevents the mailbox from syncing and results in data duplication.

The settings of your mailbox are not correct. 

You are using a virus scan solution, which is preventing Outlook from communicating to the Mail server. It, in turn, closes the connection to the server.
Read Also – Why Outlook Inbox Not Updating
How to Remove Duplicate Emails in Outlook? 
There are a couple of measures to delete duplicate emails in Outlook. You can delete such emails by sorting. It's also possible to increase the inbox update frequency so that synchronization takes place. 
1. Remove Duplicate Emails by Sorting
Through this technique, you can sort emails in your mail folder via received time, subject, sender, and attachments. Here are the points to follow. 
Open the 'Mail' view to find the mail folder from which you want to clear duplicate items.
Tap 'View' followed by 'Reading Pane.'
Then tap 'Off.'
After that, launch the 'Advanced View Settings' box by tapping 'View' followed by 'View Settings.'
Here, tap the 'Sort' button. 
The sort dialog box will pop up. Here, from the 'Sort items by' list, choose 'Subject.'
Then choose 'Received,' From, and 'Attachment.'
Finally, tap 'OK.'
Now tap the 'OK' button present in the Advanced View Settings box to save your sort settings. 
Tap the 'From' header to group every message by senders. 

Hold the Ctrl key and choose duplicate emails manually. 

Then hit 'Delete' to clear them. 
2. Set Up the Rules in Outlook Properly 
If you haven't configured Outlook rules correctly, you will find duplicate emails in Outlook. To Outlook remove duplicate emails, you need to configure every rule properly so that there's no confusion between the various email folders. While you are doing that, ensure that there is only one instance of the Outlook app running. If there is more than one case of Outlook.exe, you must close them via the task manager. 
3. Use the Clean Up tab in Outlook
In order to delete duplicate emails in Outlook, you can also try to use the Clean Up functionality in Outlook. This method is especially useful for Outlook 2016 users. 
Open the application and choose the 'Inbox Folder' in it. This folder has your duplicate emails.
Head to the 'Home' menu. Now, tap the 'Clean Up' tab.
From the drop-down, choose 'Clean Up Conversation.' Now, all the duplicate emails will go to the 'Deleted Items' folder.
Right-tap the 'Deleted Items' folder and opt for 'Empty Folder.' It will remove those emails permanently.
4. Configure the Inbox Update Frequency
If you're still wondering about how to delete duplicate emails in Outlook, you must pay some attention to the inbox updates frequency. Increase the updates by following these points.
Launch the application on your system.

Next, tap the 'Receive' or 'Send' button.
After that, choose the option of 'Define Send.' You can also choose 'Receive Groups.'

Next, configure the value option for scheduling an automatic send or receive. Set it between 15 to 30 minutes.

That's it. Now the duplicate emails issue will not bother you.
5. Disable your Antivirus Software 
In some instances, the antivirus application interrupts the functioning of Outlook. It causes it to show duplicate items. Follow these pointers to know how to remove duplicate emails in Outlook by disabling the antivirus software. 
Launch the antivirus program. 

Locate the option to disable the application. 

After you disable the software, start Outlook again. 

Now, see if there are duplicate items still in your inbox. If they aren't there anymore, you can enable the security program again.

But if they are still present, it indicates that this issue's cause lies elsewhere. You can either try to determine what is causing duplicate items or delete them manually. 
6. Use the Kutools to Remove Duplicate Emails
Kutools is an Outlook add-on that extends the functionalities of Outlook. You can use it to delete duplicate emails quickly. Here are the pointers to follow. 
Launch the mail folder. 

Now, press the Ctrl key to choose multiple emails. 

After that, tap 'Kutools' followed by 'Delete duplicate' and then 'Duplicate emails.'
You will see that all the duplicate items are listed among the chosen emails. You will find them having a strikethrough. To clear all of them, tap the 'Delete' button. 

After that, you will see a dialog box telling you the number of duplicate emails you deleted. 

Close the box by tapping 'Yes.'
Now, tap 'Finish' to exit the dialog box of duplicate emails. 
Read Also – Why Outlook Disconnected From Server
Summing Up 
Now you know the precise solution for how to remove duplicate emails in Outlook. These fixes will prevent you from facing issues while using Outlook and work uninterruptedly. You won't need to purchase any extra storage space for your data. If you need a bit more assistance with the issue, consult an expert email technical support professional.