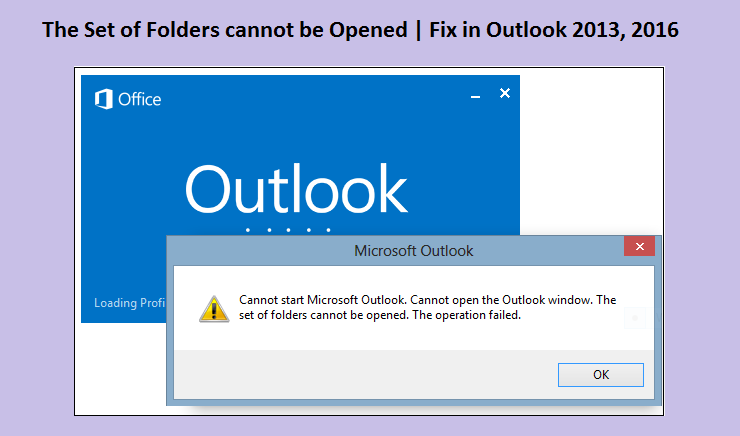 5 Methods To Fix The Set Of Folders Cannot Be Opened Error In Outlook
5 Methods To Fix The Set Of Folders Cannot Be Opened Error In Outlook
Outlook is a popular email service used as a preferred solution for personal and professional communication. Users more often face multiple annoying errors while using it. However, amongst many problematic error issues, the most frequent error that has usually been encountered by them is The Set of Folders Cannot be Opened.
This error often creates a hindrance for users to access their Outlook emails and messages. Such a specific error generally arises because of improper Outlook setup in a computer system or corrupt PST file associated with Outlook account. Luckily, there is an easy solution to quickly solve it from the root. Learn the right troubleshooting procedures in this guide. So, give a glimpse over here!
Read Also – How To Fix Outlook Data File Cannot Be Accessed
Reasons Behind The Set Of Folders Cannot Be Opened Error
Check out the list of possible reasons listed underneath:
Outlook PST file may be in danger which causes The Set of Folders Cannot be Opened issue
Inappropriately setup up Outlook on Windows system
Corrupt files or folders trying to open
Due to failed operation in Outlook or data loss
Usually, the The Set of Folders cannot be opened error indicates the Outlook data file where entire information is stored cannot be opened.  Before start fixing this issue, you have to first ensure that no backup software is running that is supposed to back up the data file, because if the file is in use, Outlook will not be able to access the file. Secondly, make sure that the file has not been moved from its original location. Although, Add-in can also disrupt Outlook from accessing the data file.
Read Also – Why is Outlook Stuck On Loading Profile
Methods to Fix The Set Of Folders Cannot Be Opened Issue
We have compiled some effective troubleshooting methods to get rid of this issue. So, let's have a closure look at each of these fixing methods:
1. Start Outlook in Safe Mode
One of the optimum solutions for this error is to run Outlook in safe mode. In safe mode, Outlook starts without loading the add-ins. To run Outlook in the safe mode, follow the given steps:
Pressing "Window + R" keys on your keyboard to open Run command
Type "Outlook /safe" into the search box and press "OK"
Doing this a "Choose Profile" dialog box will appear, click "OK" tab
If Outlook starts in the safe mode, then there might be a problem with the add-ins. Add-ins can prevent Outlook from being accessed. So, at this stage, it is needed to disable Outlook add-ins.
Disable Outlook Add-ins
Go to "File" tab, then "Options" and click on "Add-ins"
At the bottom of the window, select "COM Add-ins" and then press the "Go" button
The Add-ins used by Outlook will be shown in the 'COM Add-ins' section
Uncheck all the add-ins separately and restart "Outlook"
You can also disable each add-in one by one and launch Outlook to know which is actually causing the problem
After performing these steps accordingly, restart Outlook and check "The Set of Folders Cannot Be Opened in Outlook" is fixed or not. If yet it is continuing, move ahead.
2. Create a New Outlook Profile
The Outlook profile holds all settings for the MS Outlook application. So, once the profile gets corrupted or damaged due to some unexpected errors, it could result in the The Set of Folders cannot be opened error. That's why; it is suggested to create a new Outlook profile with the help of below guidelines:
Go to "Control Panel" section and Choose "Mail (MS Outlook 2013 or 2016)"
Opt "Show Profiles" from the given list; a new wizard will appear on the screen.
Press the "Add" button and give a specific name to the profile. Also, in the "Auto Account Setup" window, fill the details for your email account to setup up a new profile.
Once you successfully create a new profile, it will appear on the "General" tab in the Mailbox section
Now, go to the section "When starting Outlook, use this profile," and choose "Always use this profile"
And then press "OK" tab
After selecting the newly created Outlook profile, restart MS Outlook. And if Outlook starts normally, it means the previous Outlook profile was corrupt.
3. Reset Outlook Navigation Pane
The navigation pane automatically stores all the folders of your Outlook data and icons like Contacts, Tasks, Calendar and etc. Resetting the navigation pane parameter will delete all the folders, and hence resolve the "cannot open the Outlook window" error as well. Here is how to do reset:
Close all the Outlook related applications first on your system
Now, press "Win + R" keys to open the Run dialog box
Then in the run tool-type, outlook.exe /resetnavpane and hit "Enter" key
Doing this, the settings of the Outlook navigation pane will begin to reset
Wait a while until the process gets done
Now, Start MS Outlook and check for the error whether it has been solved or not
4. Fix Outlook Folder Issue with ScanPST.exe
ScanPST.exe is an in-built tool used to repair corrupt PST file. Use this utility to fix minor Outlook PST issues. Follow the below steps:
Launch Windows Explorer and browse to the location where Outlook is installed
Follow the path "C:\Program Files (x86)\Microsoft Office\root\Office16" if you are an Outlook 2016 user
Now look for "ScanPST.exe" and run it on your system
Browse the PST file that you want to repair and then click the Start button to scan the file
Once the scanning process is complete, click "Repair" button to remove PST file error or repair and fix "The Set of Folders Cannot be Opened" that occurred in Outlook
5. Delete .XML Files from Outlook Directory
Having XML file in the Outlook directory could be the one possible reason for the "The Set of Folders cannot be Opened" error. If these files are corrupt, then Outlook won't be opened. It is advisable to remove these files as soon as possible from the Outlook directory, which can be achieved with the following steps:
Press "Window + R" key simultaneously and type "Appdata" in the search field, and then hit "Enter" key
The Appdata directory will appear on the screen, now navigate to LocalMicrosoftOutlook16*
Here, search for the XML files and relocate them or delete them
After removing the .xml files, restart Outlook, and you might not face the same error again.
Read Also – Outlook Error 0x80004005
Achieve 24/7 Email Technical Support for Instant Solution
In case, you are yet experiencing The Set of Folders cannot be Opened issue, don't feel blue! There is round-the-clock accessible Email Technical Support for your help. To avail one-stop technical support service, contact us simply by making a call at the helpline number. Our highly expert technicians are always there to instruct you to eradicate the Outlook folder not opened error issues quickly and easily.