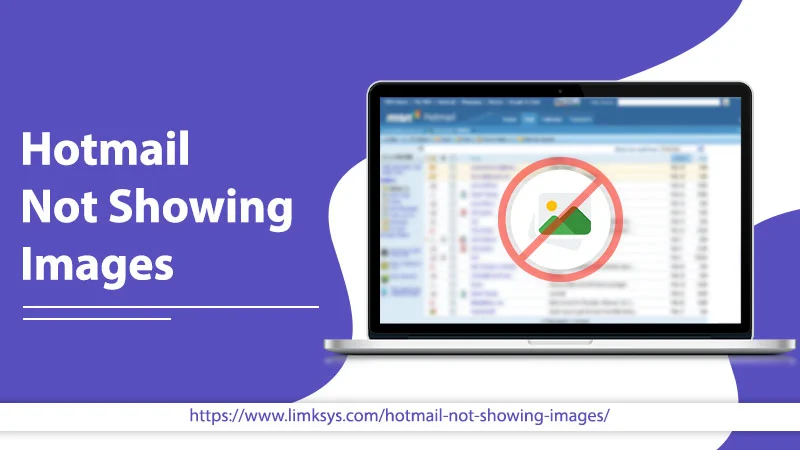 Hotmail Not Showing Images? Here Is The Solution
Hotmail Not Showing Images? Here Is The Solution
Hotmail is one of the first email service providers in existence. The name carries the weight of a lot of trusts. This includes those who have been early users of the technology. Moreover, its popularity was so huge that it led to Microsoft acquiring it. After that, it has only been an upward graph for the reliable service provider. One thing however bothers the user base. It is the scenario of images not showing in Hotmail.
In this blog, we cover the various ways by which you can bypass this. We also help you understand the issue so that you can resolve it with greater ease.
Read Also – Why Hotmail Not Working
Reasons behind Hotmail Not Showing Pictures in Email
We would like to make it clear that it is not a shortcoming of the application. Rather, it happens due to certain security features or to prevent issues. Let us examine the reasons objectively.
The first reason can be that the client on which you are running your Hotmail account is preventing it. This might be due to some setting in place you are unaware of.

Another possibility is that the client does not support a certain image. In other words, there are compatibility issues of the data and the app.

There can be a Firewall in place that does not allow the images to load. This can be done with certain tweaks in the security settings.

Also, there can be an issue with the attachment size. It might be bigger than what Hotmail supports.
Read Also – How To Block Unwanted Emails On Hotmail
How to Fix the Issue of Images Not Showing in Hotmail
Now that you have an idea of the reasons, we can proceed to the main section. Here we cover the most convenient ways to fix pictures not showing in the Hotmail issue.
Also, we will proceed platform-wise in order to avoid any sort of confusion.
1. Fixing Pictures Not Showing in Hotmail Issue for Outlook
First Option: Tweaking the Settings
For this, you need to go to Settings. After that, click on General.

Here you need to visit the Privacy and data option. Here you will see that there is an option for External images.

Under External images, opt for the option of Always use the Outlook service to load images.

Finally, save your preference.
Second Option: When Outlook is not Loading Downloaded Images
This option involves changing settings in the Trust Center. It especially works for Outlook 2019, 2016, 2013, and 2010.
Here you need to click on File. After that, go to Options.

Next, you will see the option Trust Center. Next, you need to hit on the Trust Center Settings.

Here you will see an option that reads "Don't download pictures automatically in HTML e-mail messages or RSS items". You need to remove the tick from before it.

Finally, apply the changes that you made.
Bonus: The Temporary Workaround
The initial step is to launch the application. After that, have a look at the top-right corner.
Here you will see the Settings button. It will have a Gear-like look.

After that, tap on the View All Outlook Settings option.

Now on the left side, you will see a pop-up. Here you need to navigate to General > Mail.

Now you need to ensure that you are under the Layout tab. After that, scroll to the option of Organization.

After that, opt for the Show Email Grouped By Conversation option.
Now you will see that the emails are in a grouped message view. This will temporarily bypass the issue.
Read Also – How To Recover An Old Hotmail Account
2. Fixes for the Images not Showing in Hotmail Issue in HTML View
Many people prefer using the browser to view their emails. However, the issue of images not showing in Hotmail can arise even there. Now, we will cover the steps that help you bypass that scenario.
First Option: Update the Browser
An outdated browser can cause many problems. This is one example of it. So you must get the latest updates of your browser.
To do this, go to the Settings option of your browser, and look for the Updates option.

After that, download the latest updates and then install it.

Once done, you can revisit your email and check if the issue persists.
Second Option: Disable Extensions
There might be an extension that is meddling with the email settings. To do this, launch your Browser in safe mode, or in Incognito mode. After that, recheck your email to see if the issue of images not showing in Hotmail persists.
Third Option: Clear the Cache and Cookies
For this, simply visit Settings > History of your browser. After that, click on clear data. Now select the relevant options and the time, and then clear it. Once done, try again to ensure that the problem is fixed.
Fourth Option: Use a Different Browser
If you have another browser in your system, try using it to open emails. If it does, then there might be a glitch with the other browser you are using. The reason might be that the browser does not support the format. There can also be other permission issues that you bypass with a different browser.
Fifth Option: Change Site Settings
This might differ for different browsers. However, it will be similar in most parts. Here we will cover the steps for the most famous Chrome browser.
First, you need to go to Settings. After that, choose the option that reads Privacy and Security.

Now you need to navigate through Site Settings > Images.

Finally, make the choice to Show all Images. This will download the pictures by default and display them.
Read Also – Why Hotmail Not Receiving Emails
3. Fixing Images not Showing in Hotmail on Android
For Android phones, the most common fix is to set the Images for auto download.
First, you need to go to Settings.

After that, you need to visit the application that has Hotmail configured in it.

Now you need to go to Data Usage, and then click on Images.

Finally, you need to click on Always.
This will now download the images automatically and display them. You should also check if you have the right application to support the images.
Conclusion
To put it all in a nutshell, Hotmail works pretty smoothly. However, reports of images not showing in Hotmail emerge every now and then. Please understand that it is mainly due to system and browser settings, and not Hotmail itself. Hence, change them to ensure that you are able to view the images without any hassle.